Loading... Please wait...
You are signed in with a Trade account - prices shown are discounted
Trusted by 38,000 home owners and 7,800 businesses
Trusted by 7,800 businesses and 38,000 home owners
Shop our uplights online today. We have Australia's largest lighting range. Our uplights include inground up lights, marine grade uplights, copper uplights and surface mounted uplights. Applications for uplights include homes, hotels, resorts, paths, walkways and gardens.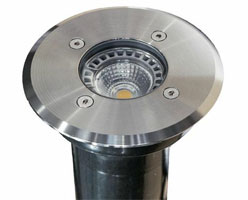 What is an Uplight?
An uplight is an outdoor light that is mounted onto, or installed into, the ground and provides illumination, safety and security for gardens, parks and walkways by projecting a directional beam of light.
Uplights Tips
Before installation, plan where you want the light - for example into trees, sculptures or at walls. Positioning the uplights is very important.
Uplights are one of the best and easiest ways to create unbeatable atmosphere in your garden.
You should layer your lighting, so for example have your uplights work together with up down lights.
Don't direct the uplights where people will be sitting, standing and walking.
If cars are going to be driving over the uplights, make sure that they can handle the weight load,