Loading... Please wait...
You are signed in with a Trade account - prices shown are discounted
Trusted by 38,000 home owners and 7,800 businesses
Trusted by 7,800 businesses and 38,000 home owners
Buy our solar spotlights online today. We have Australia's largest lighting range. Our solar spotlights include solar spike lights, solar garden spotlights and RGB solar spotlights. Our solar spotlights come with their own solar panels. Applications for solar spotlights include paths, gardens, patios, commercial premises and public walkways.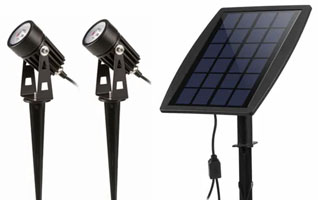 What is a Solar Spotlight?
A solar spotlight is light fixture that sits just above ground level and is connected to a rechargeable battery powered by a solar panel. Quite often it has a thin shaft which is embedded into the ground. Solar spotlights are used to illuminate stairs, gardens, pathways, parking lots, walkways and entrances to buildings. They are designed to withstand all types of weather conditions.
Solar Spotlights Tips
Remember that solar spotlights are not just about lighting - they can also provide great atmosphere in your garden.
Make sure you don't space solar spotlights too broadly, as they are low down.
For stairs and step, solar spotlights should be placed as close to the edge of the step as practical.
For consistent lighting, clean the solar panels with a damp cloth regularly.
When planting solar spotlights with spikes, ensure that the ground is very firm otherwise they will move over time.
Don't install solar spotlights where they will be covered with trees, shrubs or grass.