Loading... Please wait...
You are signed in with a Trade account - prices shown are discounted
Trusted by 38,000 home owners and 7,800 businesses
Trusted by 7,800 businesses and 38,000 home owners
Shop our solar sensor lights online today. We have Australia's largest lighting range. Our solar sensor lights include solar security lights, solar motion sensor lights, solar sensor flood lights and LED solar sensor lights. Applications for solar sensor lights include homes, factories, warehouses, public parks and shops. See our
security lighting guide
.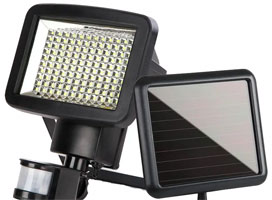 What is a Solar Sensor Light?
A solar sensor light (also called a solar security light) is a solar powered outdoor lighting fixture that turns on its illumination in response to movement. A solar sensor light has three objectives: to provide safety through illuminating hazards on the ground; to improve security by discouraging trespassers; and to enhance the outdoor aesthetics by mood lighting.
Solar Sensor Lights Tips
Try to mount solar security lights above arm level. By doing you so, trespassers are less likely to damage them.
A common mistake is to install overly bright security lights. The eye is very sensitive to light at night, so having very bright light is not critical.
The detection zone of your solar sensor light is important as this will be where movement is detected.
You should also note the solar security light's range, which is the distance it can detect. The larger the range the more susceptible is the security light to false alarms.
Install your solar sensor lights to cover the walks over your front and back doors as well as your driveway.
Be careful not to create irritating light pollution in your neighbour's property.