Loading... Please wait...
You are signed in with a Trade account - prices shown are discounted
Trusted by 38,000 home owners and 7,800 businesses
Trusted by 7,800 businesses and 38,000 home owners
Shop our sensor lights online today. We have Australia's largest lighting range. Our motion sensor lights include LED sensor lights, outdoor sensor lights, security sensor lights, solar sensor lights, sensor flood lights and sensor pillar lights. Applications for sensor lights include homes, factories, warehouses and shops. See our
security lighting guide
.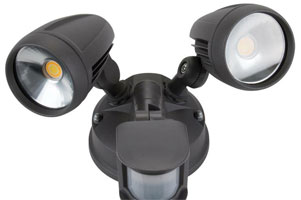 Sensor Lights Tips
Make sure that the sensor light is installed about 4m high. This will reduce the likelihood of a criminal breaking it.
It is important to make sure that the detection angle and distance of the sensor is correct.
Avoid putting animals, bushes and trees in the detection zone of your sensor light, as they will trigger false alarms.
Position your sensor light so that it is not creating light pollution in your neighbours' properties.
Set the sensor light to turn off about 30 seconds after being triggered, that way you are not left in the dark too soon.