Buy our solar bollard lights online today. We have Australia's largest lighting range. Our solar bollard lights include commercial grade solar bollards, stainless steel bollards, motion sensor solar bollards, super bright solar bollard lights and IP65 solar bollards. Applications for solar bollard lights include gardens, paths, hotels, resorts, commercial premises, work sites and public walkways.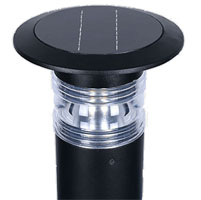 Solar Bollard Lighting Tips
You should use your solar bollard lights not just for illumination, but also for mood lighting.
The spacing of solar bollards is important. Too close together, and you will get an overly bright line that will look odd.
Steps and paths in gardens should be your prime consideration in terms of positioning.
If you have a pond or fountain, solar bollards will make them look spectacular.
Make sure you don't cause light pollution to your neighbours.