Loading... Please wait...
You are signed in with a Trade account - prices shown are discounted
Trusted by 38,000 home owners and 7,800 businesses
Trusted by 7,800 businesses and 38,000 home owners
Buy our ceramic lamps online today. We have Australia's largest lighting range. Our ceramic lamps include ceramic table lamps, classic ceramic lamps and ceramic lamps with various colours. Applications for ceramic lamps include homes, bars, restaurants, hotels and resorts.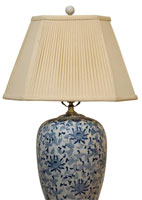 Ceramic Lamps Tips
Make sure the your ceramic lamp does not conflict with the decor and colour scheme of your room.
The shade of the ceramic lamp should be narrower than the table it is on.
If you are putting a ceramic lamp on either side of the bed, both of the lamps should be the same.
You should use warm white frosted globes in your ceramic lamps.