Loading... Please wait...
You are signed in with a Trade account - prices shown are discounted
Trusted by 38,000 home owners and 7,800 businesses
Trusted by 7,800 businesses and 38,000 home owners
Shop our high bay LED lights online today. We have Australia's largest lighting range. Our high bay LED lights include UFO lights and ultra-high lumen lights. Applications include spaces with high ceilings over 6m such as warehouses, workshops, assembly rooms, gyms and factories. See our
guide to high bay lights
.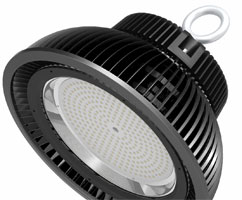 What is a High Bay Light?
A high bay light is an overhead fitting with a brightness of at least 10,000 lumens that is used to illuminate large spaces such as factories, warehouses, gyms, department stores and aircraft hangars. They can illuminate vast areas both vertically and horizontally. Depending upon the height of the ceiling, these lights either hang from the ceiling by chains or hooks or can be be fitted directly to the ceiling itself.
High Bay LED Lights Tips
High bay lights should be installed in areas where there are very high ceilings and you need industrial quality bright lighting.
Modern high bay lights are almost all LED which means they use much less power than older type high bays and have a very long lifetime.
The other advantage of high bays is that they do not flicker.
The number and spacing between the lights is dependant on your application, ceiling height and size of the room - so get an expert lighting designer to confirm which, and how many, lights are suitable for your needs.
Ideally, light will be coming from 3 directions to provide optimal illumination.
Benefits of LED High Bay Lights
They are very energy efficient, using 75% less energy than traditional high bay lights.
Extremely compact, providing an enormous amount of light from a relatively small source.
Most high bay lights are waterproof, ensuring they perform under rain or humid environments.
Their lifespan is very high (often 50000 hours) which means they will perform for years without maintenance or replacement.
They have a wide angle beam ensuring good visibility.
They produce very little heat so are much safer than traditional high bays.