Loading... Please wait...
We are open and shipping Australia-wide
You are signed in with a Trade account - prices shown are discounted
Trusted by 38,000 home owners and 7,800 businesses
Trusted by 7,800 businesses and 38,000 home owners
Buy our up down lights online today. We have Australia's largest lighting range. Our up down lights include LED up down lights, adjustable wall lights, marine grade lights and modern lights. Applications for up down lights include homes, apartments, commercial premises, hotels, resorts and work sites.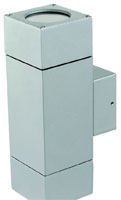 Up Down Wall Lights Tips
Up down lights come in either 12V or 240V models - make sure you purchase the right one.
For outdoor entertainment areas, we suggest warm white (3000K) up down lights.
Up down lights in row make for a spectacular and dramatic impact, particularly if the wall has a rough texture.
consider timers to ensure the up down lights are only on at night.
When installing up down lights, try to be considerate to your neighbours.