Loading... Please wait...
You are signed in with a Trade account - prices shown are discounted
Trusted by 38,000 home owners and 7,800 businesses
Trusted by 7,800 businesses and 38,000 home owners
Shop our Hollywood lights online today. We have Australia's largest lighting range. Our Hollywood lights have up to 8 globes, and come in a white, black or chrome finish. Applications for Hollywood lights include bathrooms, bedrooms, makeup suites, theatres, restaurants, hotels and public spaces.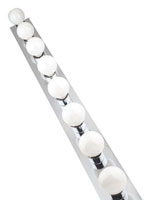 What are Hollywood Lights?
Hollywood lights (also called makeup lights and mirror lights) are light fittings with multiple globes that are installed above or beside a mirror to provide supplementary illumination. They are used both in the home as well as by professional actors.
Hollywood Lights Tips
Try to leave a space between the light and the mirror. About 80mm is ideal.
If your Hollywood lights are dimmable then use the dimmer as this will allow you to set the optimal lighting for your needs.
Always install frosted rather than clear globes in your light,
The colour temperature of your Hollywood lights should be cool white. This will provide clearer lighting than warm white.
To reduce shadowing to a minimum put Hollywood lights on either side of your mirror as well as the top.