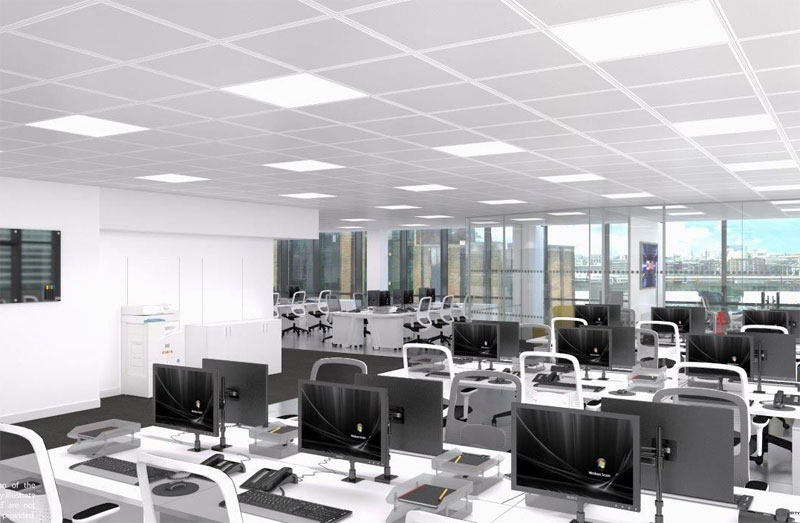 What Is an LED Panel?
An LED panel consists of an array of LED strips which are mounted inside a flat panel of semi-transparent plastic. LED panels can be rectangular, square or round.
How Are LED Panels Installed?
LED panels can be embedded into the ceiling, be surface mounted or suspended by cables.
What Components Are Inside an LED Panel?
LED strip: this contains tiny LED globes mounted to a circuit board
Light guide plate: this is plastic that focuses light from the LEDs towards the outer diffuser
Diffuser: directs lights externally and reduces glare
Reflector: reflects any scattered light back to the light guide plate
Heat sink: conducts any neat away from the LED strips this heat
Frame: aluminium around the edge of the panel that holds everything together
Sponge Backing: sits on top of the backplate for support
Backplate: aluminium at the back of the panel
Driver: converts main power to low voltage, direct current suitable for the LED strip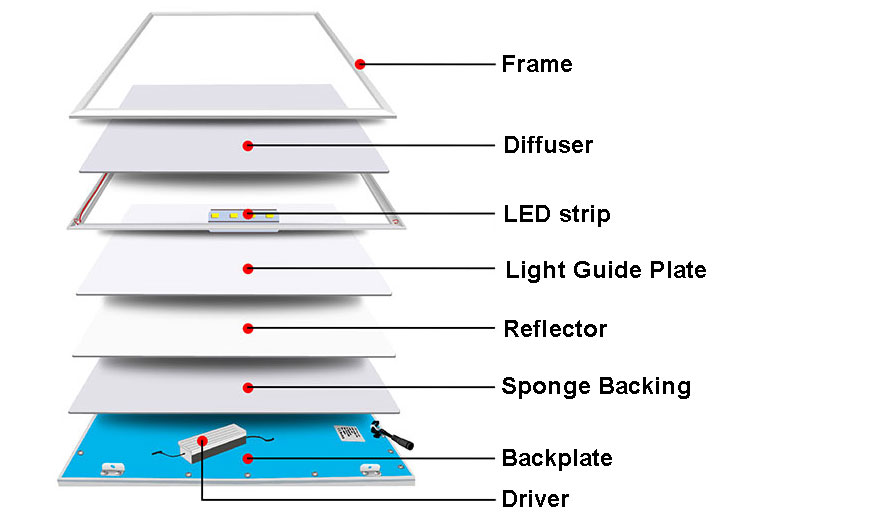 What Different Materials Are LED Panels Made From?
The light guide plate (LGP) inside an LED panel can be made from one of three types of plastic: methyl-styrene (MS), polymethyl-methacrylate (PMMA) or polystyrene (PS). Both PMMA and MS are superior products. PS will go yellow over time.
Why Does the Light From LED Panels Look So Uniform?
LED panels are made from layers upon layers, which act to soften the light and make it look very uniform and diffuse.
What Colours Do LED Panels Produce?
LED panels can produce various white colours including warm white (2600K to 3200K), cool white (3200K to 4500K) and daylight white (over 4500K).
What Sizes Do LED Panels Come In?
While LED panels come in many sizes, but there are generally 3 standard sizes:
- 1200mm x 300mm (rectangular)
- 1200mm x 600mm (rectangular)
- 600mm x 600mm (square)
What Are the Different Types of LED Panels?
Apart from standard LED panels, there are the following types:
- Dimmable
- Emergency (can operate for at least 2 hours once the mains has been disconnected)
- High CRI (often used in medical situations where realistic colour is critical)
- Tri-Colour (where warm white, cool white or daylight white can be selected by a switch)
- IP Rated (for areas where there is humidity)
Where Are LED Panels Used?
LED panels are mainly used in commercial areas such as offices, shops, schools, hospitals, warehouses and factories.
How Much Energy Can LED Panels Save?
LED panels use about 50% less energy than older style lights.
What Are the Benefits of LED Panels?
LED panels have the following benefits:
- They are very energy efficient
- They emit very low amounts of heat
- They emit bright light which is very uniform
- They do not flicker
- They can withstand extreme variations of temperatures
- They are very inexpensive
- They are very safe
- They are environmentally sound
- They are easy to install
- They do not produce glare
- They are the perfect product for showrooms and offices
- They have a very long lifespan
- They have very slim housings
- They have no warm up time
Why Are LED Panels So Bright?
An LED panel light is so bright because it has a very powerful array of LED strips which are focused by the reflector.
What Accessories Can LED Panels Use?
LED panels can sometimes utilize mounting kits - either surface mounts or suspended mounts.
How Do You Install an LED Panel?
Installing an LED panel is extremely easy (but should be done by a qualified electrician):
- Disconnect the main electricity supply
- Remove the ceiling tiles or light being replaced
- Connect the main supply to the LED panel's driver (many LED panels will come with a flex and plug)
- Place the driver on the back (top) of the panel
- Put the LED panel into the ceiling
- Switch the mains power back on
How Do I Choose an LED Panel?
The following factors should be considered when choosing an LED panel:
- Lumens: how bright it is
- CRI: how realistic colour appears
- Colour Temperature: cool white, warm white or daylight white
- IP Rating: how waterproof it is
- IK Rating: can it handle impact and vandalism
- Beam angle: how broadly the light is projected
- Mounting: surface or suspended
- Size: rectangular or square, and width
- Dimmable: do you want to be able to dim the panel
- Warranty: better LED panels will have longer warranties
What Are Some Common Problems That Are Found With LED Panels?
The following problems may occur with LED panels:
- LED panel fails completely
- LED panel flickers
- Only some areas of the panel are lit up
- Overheating caused by poor insulation
- Yellowing of the plastic