Loading... Please wait...
You are signed in with a Trade account - prices shown are discounted
Trusted by 38,000 home owners and 7,800 businesses
Trusted by 7,800 businesses and 38,000 home owners
Buy our desk lamps online today. We have Australia's largest lighting range. Our desk lamps include LED desk lamps, classic desk lamps, bankers desk lamps, adjustable desk lamps and flexible desk lamps. Applications for desk lamps include offices, homes, work sites and manufacturing premises.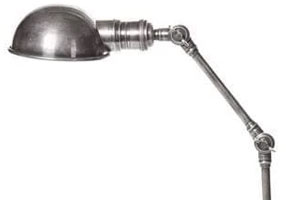 What is a Desk Lamp?
A desk lamp is an indoor lighting fixture whose objective is to clearly illuminate an activity underway. An essential element of a desk lamp is that its beam is directional, so it can be pointed straight at the activity without glaring into the eyes. Desk lamps are normally found in offices and studies.
How Many Lumens Should a Desk Lamp Have?
The brightness of a desk lamp (measured in lumens) depends upon its purpose. For reading and writing, it should be about 500 lumens. For extremely detailed work, its brightness should be about 800 lumens.
What Colour Temperature Should a Desk Lamp Have?
A desk lamp should be cool white (3200K to 4500K). This white colour range is the ideal balance between clear vision and alertness.
Desk Lamps Tips
Make sure that there is no direct glare into your eyes from the desk lamp when you are seated.
Adjustable desk lamps with multiple arms are perfect to make sure that the light is focused in the right direction.
The desk lamp should be next to your dominant hand, as that will make it much easier to turn it on and off.
If you have a large desk, get a desk lamp with a swiveling head.
Remember that your desk lamp will be the most important thing on your table: so choose one that is both functional and looks great.