Loading... Please wait...
You are signed in with a Trade account - prices shown are discounted
Trusted by 38,000 home owners and 7,800 businesses
Trusted by 7,800 businesses and 38,000 home owners
Buy our garden spike lights online today. We have Australia's largest lighting range. Our spike lights include LED spike lights, 12V garden spikes, solar garden spike lights, marine grade spike lights and motion sensor spike lights. Applications for spike lights include gardens, parks, outdoor eateries, pathways, lawns and resorts.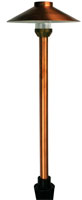 What is a Spike Light?
A spike light is a light fixture that sits just above ground level and has a very thin shaft which is embedded into the ground. Spike lights are used to illuminate stairs, gardens, pathways, parking lots, walkways and entrances to buildings. They are designed to withstand all types of weather conditions.
Spike Lights Tips
Spike lights are a great choice to in order to create dramatic effects in the garden.
If you put spike lights together in a row, they should be equidistant.
Spike lights can bring out interesting textures of trees and rough walls.
Make sure that spike lights are not directed into people's faces.
Install a timer to turn off the spike lights during the day.