Loading... Please wait...
You are signed in with a Trade account - prices shown are discounted
Trusted by 38,000 home owners and 7,800 businesses
Trusted by 7,800 businesses and 38,000 home owners
Shop our solar lamp posts online today. We have Australia's largest lighting range. Our solar lamp posts include solar post lights, two-headed solar lamp posts and Colonial style lamp posts. Applications for solar lamp posts include homes, hospitality venues, hotels, parks, businesses and pathways.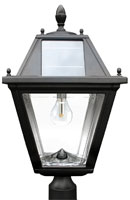 What is a Solar Lamp Post?
A solar lamp post is a solar powered lighting fixture that is mounted on a post, used to illuminate parks, gardens and walkways. The light is powered by a rechargeable battery connected to a solar panel. Typically, solar lamp posts are higher than 1.5 metres in height.
Solar Lamp Posts Tips
Solar post lights are an absolute perfect way to create a beautiful mood while simultaneously provide good night lighting.
Make sure that branches don't create shadows over the solar panels.
If you have a garden pond, you can use solar lamp posts as a lovely way to reflect light off the waves.
Sensor solar lamp posts can be used for security and safety, and are extremely easy to install.
Solar post lights will be higher up which can cause light pollution to your neighbours, so be aware of this when positioning them.