Loading... Please wait...
You are signed in with a Trade account - prices shown are discounted
Trusted by 38,000 home owners and 7,800 businesses
Trusted by 7,800 businesses and 38,000 home owners
Shop our oyster lights online today. We have Australia's largest lighting range. Our oyster lights include LED oyster lights, flush mount ceiling lights and flush mount LED lights. Applications for oyster lights include homes, hotels, motels, apartments and public amenities.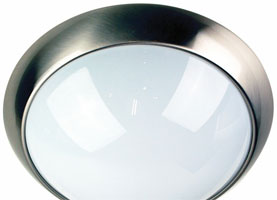 What is an Oyster Light?
An oyster light (also called a surface mount ceiling light) is a light fitting that is installed flush with the ceiling. The name is derived from the fact that most oyster lights are round, with a gentle bulge in the middle, so that they look like upside down oysters. Oyster lights are a great option for shoppers looking for very lost cost lighting.
Oyster Lights Tips
Oyster lights are particularly well suited for small rooms and rooms with low ceilings.
Oyster lights are also used in cupboards and closets.
If you are installing a row of oysters, then as a rule of thumb space them about 2.5 to 3 metres apart.
Oyster lights create diffuse, reflected light without glare.
The disadvantage of oyster lights is that they have almost no design value so will not enhance the aesthetics of a room.