Loading... Please wait...
You are signed in with a Trade account - prices shown are discounted
Trusted by 38,000 home owners and 7,800 businesses
Trusted by 7,800 businesses and 38,000 home owners
Buy our smart garden lights online today. We have Australia's largest lighting range. Our smart garden lights include smart RGB garden spike lights and smart wifi garden controllers. Applications for smart outdoor lights include homes, apartments, commercial premises, parks, walkways, paths, stadiums, hotels and resorts.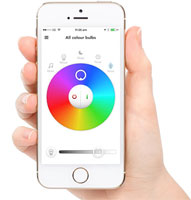 What is a Smart Garden Light?
A smart garden light is an outdoor lighting fixture that can be controlled over the wireless network using an app on your phone or a smart home assistant. This gives you the ability to automate and control your garden lights remotely. Smart garden lights have the ability to change many factors such as brightness, timing and colour. They can also be used in conjunction with other smart devices such as dimmers and sensors.
Smart Garden Lighting Tips
Adding a motion sensor to your smart garden lights is very convenient for night time movement.
You can connect your smart garden lights to Google Home and Amazon Alexa.
Many of smart garden lights are RGB which can create beautiful colours in your gardens.
If you are going out, set up the timers so that the smart garden light turns on before you arrive.