Loading... Please wait...
You are signed in with a Trade account - prices shown are discounted
Trusted by 38,000 home owners and 7,800 businesses
Trusted by 7,800 businesses and 38,000 home owners
Buy our outdoor lights online today. We have Australia's largest lighting range. Our outdoor light fittings include outdoor wall lights, garden lights, solar lights and outdoor ceiling lights. Applications for outdoor lights include homes, apartments, commercial premises, parks, gardens, hotels, resorts and work sites.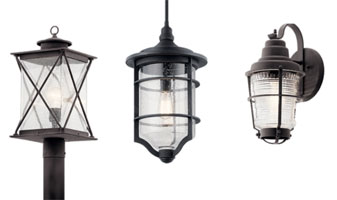 Outdoor Lighting Tips
Before installing outdoor lights, be clear about your objectives. Are you improving safety? Are you trying to set the mood? Are you providing security? Create a lighting plan to achieve your objectives.
Installing lights under shrubs and pointing up at trees is a fantastic way to create a dramatic atmosphere.
Directional lights like spotlights are great for highlighting features. Consider multiple lights rather than one - it looks much better.
If you are installing lights in a row, make sure they are equidistant.
Consider motion sensors and timers to save energy and enhance safety.