Loading... Please wait...
You are signed in with a Trade account - prices shown are discounted
Trusted by 38,000 home owners and 7,800 businesses
Trusted by 7,800 businesses and 38,000 home owners
Shop our 12V garden lights online today. We have Australia's largest lighting range. Our 12 Volt garden lights include wall lights, LED strip lights, spike lights, ground lights and bollard lights. Applications for 12V lights include gardens, walls, parks, paths, public walkways, hotels and driveways. See our
low voltage garden lighting guide
.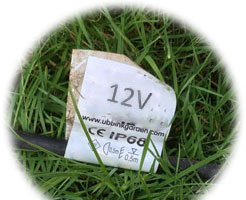 12 Volt Garden Lighting Tips
All 12 volt lights must be connected to a driver / transformer before being joined to the main current.
Your transformer's maximum rating should not be more than double the total wattage rating of your lights.
If your fitting takes a globe then its rating is defined by the rating of that globe.
Never connect low voltage lights whose total rating exceed the transformer.
There are multiple ways to connect 12 Volt garden lights, such as series, parallel, loop etc. Choose a method that suits your garden.