Loading... Please wait...
You are signed in with a Trade account - prices shown are discounted
Trusted by 38,000 home owners and 7,800 businesses
Trusted by 7,800 businesses and 38,000 home owners
Buy our coach lights online today. We have Australia's largest lighting range. Our coach lights include Italian made coach lights, coach lights with sensors, LED coach lights, solar coach lights, Victorian coach lights and marine grade coach lights. Applications for coach lights include homes, parks, gardens, restaurants and public spaces.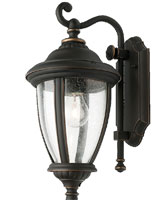 Coach Lights Tips
If the coach light is being installed above a door, ensure that the bottom of the coach light is at least 15 cm above the door.
A rule of thumb is to hang coach lights such that the centre of the light is about 1.7 metres above the ground.
Coach lights have various IP ratings - IP43 should be sufficient for most areas, but if your area has extreme storms, you might want to consider a higher rating.
Make sure your coach lights do not create light pollution in your neighbours' gardens.
Consider putting your coach lights on timers to save electricity.