Loading... Please wait...
You are signed in with a Trade account - prices shown are discounted
Trusted by 38,000 home owners and 7,800 businesses
Trusted by 7,800 businesses and 38,000 home owners
Shop our mirror lights online today. We have Australia's largest lighting range. Our mirror lights include straight mirror lights, Hollywood mirror lights, bathroom mirror lights and adjustable mirror lights. Applications for mirror lights include bathrooms, bedrooms, restaurants, makeup rooms, hotels and public amenities.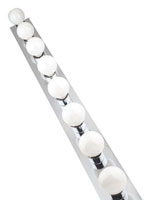 What are Mirror Lights?
Mirror lights (also called bathroom lights, vanity lights, makeup lights or Hollywood lights) are light fittings that are installed above or beside a mirror to provide supplementary illumination. They are used in bathrooms, bedrooms and for makeup.
Mirror Lights Tips
It is very important that your mirror lights are installed in the correct position. As a rule of thumb, there should be about 80mm between the mirror and the lights.
Consider using dimmers. This will allow you set the lighting at exactly the right level.
If your mirror light takes globes, make sure they are frosted to provide a more uniform light,
Too bright is much better than too dim, as you need to be able to see very fine details.
Ideally, the mirror will have 3 lights: two on either side and one above.
Never place a mirror light on only one side of your mirror, as this will cast uneven shadows on your face.