Loading... Please wait...
You are signed in with a Trade account - prices shown are discounted
Trusted by 38,000 home owners and 7,800 businesses
Trusted by 7,800 businesses and 38,000 home owners
Shop our LED batten lights online today. We have Australia's largest lighting range. Our LED batten lights are all industrial grade and include LED weatherproof battens, slimline LED battens, dimmable LED battens, tri-colour battens, marine grade and vandal resistant battens, and suspended battens. Applications for LED batten lights include offices, shops, parking lots, train stations, warehouses and factories.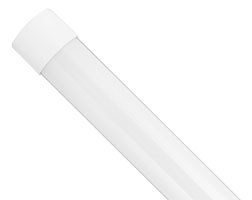 LED Batten Lighting Tips
An LED batten light will save you at least 50% on energy costs compared to older style lighting, and will last much longer as well.
Batten lights have a component inside called a light guide plate which can yellow over time if it is made from polystyrene.
Dimmable batten lights allow you to control their brightness.
Many LED batten lights available here are marine grade and / or vandal proof. This is ideal for batten lights installed in public places.
Suspended LED battens are perfect for places with high ceilings, or where you want to focus the light.