Loading... Please wait...
We are open and shipping Australia-wide
You are signed in with a Trade account - prices shown are discounted
Trusted by 38,000 home owners and 7,800 businesses
Trusted by 7,800 businesses and 38,000 home owners
Buy our outdoor LED light drivers online today. We have Australia's largest lighting range. Our outdoor LED light drivers include 12V LED light drivers, 24V LED light drivers, constant voltage LED drivers, constant current LED light drivers and dimmable LED drivers. Applications for drivers include homes, gardens, parks, walkways, hotels and commercial sites.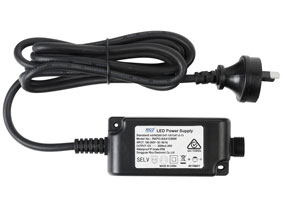 What is an Outdoor LED Driver?
An outdoor LED driver (also called an outdoor LED light driver) is a water resistant device that provides power to an exterior LED light fitting. It is responsible for converting the mains power into the correct voltage and current that is usable by the LED light. LED light drivers have two types of output: either constant voltage or constant current.
Outdoor LED Light Drivers Tips
Most outdoor LED lights require 12V or 24V DC LED drivers. Make sure that the driver you purchase correctly matches your light.
Likewise, if dimming is required, determine what type of dimmer is needed: DALI, 1-10V, 0-10V, trailing or leading edge.
It is critical not to overload your outdoor LED driver. The load on an driver should not exceed 80% of its maximum rated capacity.
Outdoor LED drivers work much less efficiently in very high temperatures.
Ensure that the IP rating of the LED driver correctly matches how much water it will come in contact with.