Loading... Please wait...
You are signed in with a Trade account - prices shown are discounted
Trusted by 38,000 home owners and 7,800 businesses
Trusted by 7,800 businesses and 38,000 home owners
Buy our lamps online today. We have Australia's largest lighting range. Our lamps include table lamps, bedside lamps, floor lamps and desk lamps. Applications for lamps include living rooms, dining rooms, bedrooms, bars and restaurants. See our
guide to industrial style lamps
.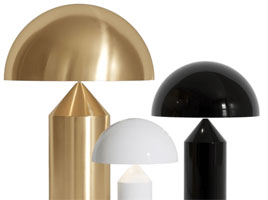 Tips on Lamps
Before you buy a lamp, make sure you are very clear about its purpose. Will it be used for mood lighting? Will it be used for reading? Will it be used for lighting up the room? The lamp you buy needs to perfectly match its purpose in life.
Ensure that your lamp matches the room size, decor and furniture.
To create a dramatic impact, install a lamp with an open shade so that bright light is emitted both up and down.
Have in mind the colour of the room you will be installing the lamp in. The lamp should either blend with the room colour (to create a subtle effect) or it should contrast it (to create a very dramatic and bold effect).
Be aware that tall lamps provide a very difference experience than wide ones.
To dramatically enhance your home, bring lamps into areas and rooms that are unconventional. In other words, make a statement!
Keep in mind that some lamps are translucent fabrics or plastic, while others are opaque. For the former, diffused light will come through the sides, which can produce fantastic ambient lighting.