Loading... Please wait...
You are signed in with a Trade account - prices shown are discounted
Trusted by 38,000 home owners and 7,800 businesses
Trusted by 7,800 businesses and 38,000 home owners
We have the largest range of bedside lamps in Australia including classic lamps, touch lamps, modern lamps and timber lamps. Applications are endless, such as homes, apartments, hotels and resorts.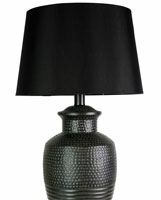 What is a Bedside Lamp?
A bedside lamp is an indoor light that sits on a table next to a bed. Most bedside lamps have a base, a globe and a shade.
Bedside Lamps Tips
Make sure that your bedside lamps do not conflict with your room's decor.
The shade of the lamp should be narrower than the table the lamp sits upon.
If you are installing bedside lamps on both sides of the bed, both of the lamps need to be the same.
Use frosted globes to reduce glare.
Bedside lamp globes should be warm white.