Buy our table lamps online today. We have Australia's largest lighting range. Our table lamps include classic table lamps, touch table lamps, modern table lamps, table lamps with shades and timber table lamps. Applications for table lamps include homes, bars, restaurants, hotels and resorts.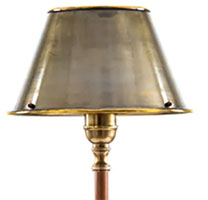 What is a Table Lamp?
A table lamp is an indoor lighting fixture that stands on a table and has a base, a globe and a shade. Table lamps can be used either for general lighting or for task lighting in which a particular activity needs to be illuminated. Most table lamps are positioned in living rooms and bedrooms.
Table Lamps Tips
Modern, angular and minimalist lamps are definitely in. However, make sure the your lamps do not conflict with the room's decor.
Ensure that you have sufficient lighting to be comfortable, particularly if you will be reading by the light of the lamp.
The shade of the lamp should not be wider than the table it is sitting on.
If you are installing bedside table lamps on both sides of the bed, both of the lamps need to be the same.
Always use frosted globes to reduce glare.
Remember that lamps cast shadows, so consider this carefully when choosing your lamp.
Touch lamps are a great idea when you do not want to have to stretch.
Table lamp globes should be warm white.