Loading... Please wait...
We are open and shipping Australia-wide
You are signed in with a Trade account - prices shown are discounted
Trusted by 38,000 home owners and 7,800 businesses
Trusted by 7,800 businesses and 38,000 home owners
Buy our shop lights online today. We have Australia's largest lighting range. Our shop lights include commercial grade downlights, gimbles, surface mounted luminaries and LED battens. Applications for LED shop lights include retail stores, shopping centres, offices, foyers, hotels, schools, factories and warehouses.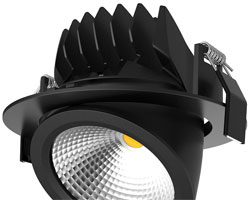 Shop Lights Tips
Shop lights should be installed in areas where there are high ceilings and you need commercial grade, bright lighting.
There are three ways that you can install shop lights:

Recessed - embedded in the ceiling.
Surface mounted - touching the ceiling.
Suspended - by a series of cables.

Modern shop lights are LED based so they use much less power and have a very long lifetime. They also do not flicker and have no warm up period.
The number and spacing of shop lights is dependant upon your application, ceiling height and size of the room - so get an expert lighting designer to confirm which, and how many, shop lights are suitable for your needs.
A gimble shop light is suitable for when you need directional lighting.
Many LED battens are suspended, which is perfect if your ceiling is very high and you do not want to install high bay lights.
Cool white lights are brighter, but if you want a more consumer friendly mood then put in warm white lights (3000K colour temperature).
Lights with smaller beam angles will create shadows, so consider this carefully.