Loading... Please wait...
We are open and shipping Australia-wide
You are signed in with a Trade account - prices shown are discounted
Trusted by 38,000 home owners and 7,800 businesses
Trusted by 7,800 businesses and 38,000 home owners
Shop our makeup lights online today. We have Australia's largest lighting range. Our makeup lights include slimline makeup lights, professional makeup lights, adjustable makeup lights and bathroom makeup lights. Applications for makeup lights include bathrooms, bedrooms, restaurants, makeup rooms, hotels, theatres and movie sets.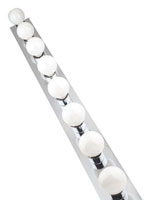 What is a Makeup light?
A makeup light (also called a vanity light, mirror light or Hollywood light) is a light fixture that is installed near a mirror to provide additional, excellent and flattering illumination - most often in bathrooms, bedrooms and movie sets.
Makeup Lighting Tips
For superior makeup lighting, it is critical to have lights on the left, right and above the mirror. Lights should be positioned about 80mm from the edge of the mirror.
If the makeup light is dimmable, then definitely install a dimmer. Good makeup requires perfect lighting.
Makeup lighting should be uniform and bright so use frosted globes with high lumen levels.
For applying makeup, it is recommended that cool white globes are used, rather than warm white.
Stay away from cheap fluorescent lights. LED lights and globes will create the best effect.