Loading... Please wait...
You are signed in with a Trade account - prices shown are discounted
Trusted by 38,000 home owners and 7,800 businesses
Trusted by 7,800 businesses and 38,000 home owners
Buy our LED downlights online today. We have Australia's largest lighting range. Our LED downlights include dimmable downlights, surface mounted downlights, recessed downlights, gimble downlights and IP rated downlights. Applications for downlights include homes, offices, retail stores, commercial premises, apartments and hotels. See
what's new in downlights
.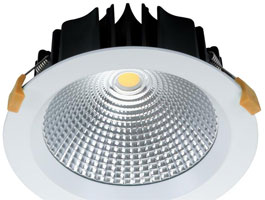 LED Downlights Tips
The placement of downlights is critical to good lighting. They should be 600mm or more from the walls and spaced at regular intervals of between 900mm and 1250mm. In corridors, the spacing can be greater as less lighting is needed.
For enhancing the atmosphere of any room, choose dimmable downlights.
Always choose LED downlights over other types. LED downlights last up to 50,000 hours, which is 10 times longer than other types. They are also safer as they emit much less heat.
Never trust your electrician to design the layout of your downlights. Electricians are not interior designers.
In the bathroom, be aware that downlights over mirrors can create heavy shadows, which you can mitigate by using a vanity light or a mirror light.
The most important tip is that in living rooms, dining rooms and other rooms in which you want to create mood lighting use warm white (3000K) LED downlights.